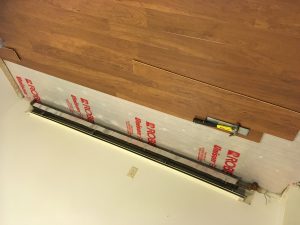 Almost there, with the 'easy' part. 
Last two rows will be time consuming. I have to rip at least 5 boards, notch two for pipes, notch two more for the closet bump.
Hard parts to come. Clean up wall where old baseboard and trim left their caulk residue. Paint new baseboard and door trim. Cut and install baseboard and trim. 
Then the Herculean task if reloading the room. Four book cases and more. 
Ok. Quit procrastinating. Drink of water and back at it. 
E returns home this afternoon.